Newly renovated Mount Ephraim House is part of Greensleeves Care, a quality award-winning, not-for-profit care operator with 28 care homes across the south of England and the Midlands. Renray Healthcare provided a full fit out and project management service for this project, including manufacture and supply of a bespoke bedroom furniture collection, profiling beds and mattresses, overbed tables, and much more.
Recently, Renray Healthcare worked with Greensleeves Care to refurbish Mount Ephraim House in Tunbridge Wells, Kent. The home is steeped in history. Operating as a care home since the 1950s, the original 17th Century site was rumoured to be King Charles II's favourite hunting lodge.
We were approached to deliver a full fit-out of this exciting flagship project due to our previous successful and collaborative work at Greensleeves Care's Berkshire home, Buckler's Lodge.
The project brief was to create a homely care home interior which was not institutional in appearance and used evidence-based design to create a dementia friendly interior, to promote confidence and independence. It was also imperative that the design connected with the local area using local history, geography, and attractions for inspiration.
We worked closely with Greensleeves Care to provide an interior solution that not only matched the beautiful period setting of the home, but would enable the staff to provide high quality, 'person centred' care that could meet the individual needs of the residents, including those living with dementia.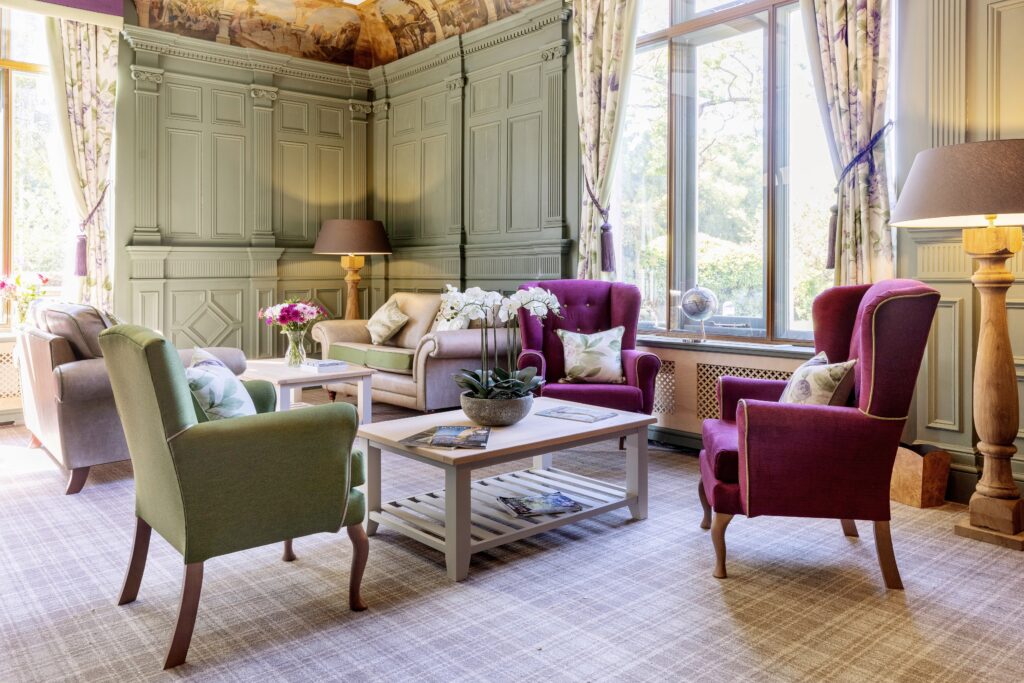 The luxurious dining room gives residents a spacious area to enjoy their meals, as well as more comfortable seating for others. Open lounge areas enhance the majesty of the crafted and high-ceilinged interior architecture, and the 57 bedrooms, with modern fittings and en-suite wet rooms, were upgraded with a bespoke solution to ensure a safe space to sleep and relax.
The inside of Mount Ephraim House has been designed to meet high standards of modern-day care and help connect the old with the new. In line with Greensleeves Care' commitment to create proudly bespoke homes rooted in their communities, the fittings take inspiration from the local area.
Other design features include:
Intentional use of distinct colours on walls to assist with orientation and wayfinding, and bright shades on soft furnishings to support those with sight loss.
Floor and room names inspired by local people and landmarks.
Imagery of people and places connected to the site and the local area, including portraits of founder Sir Edmund King and local author William Makepeace Thackeray, and historical photography of the surrounding area.
Bringing the outside inside by introducing floral and greenery motifs in fabrics as a nod to the home's historic gardens.
Using plaid patterned carpets to make the space feel comforting and homely rather than clinical.
"Working with Greensleeves Care was a pleasure. Together we came up with an excellent and unique interior solution that was in keeping with the overarching theme of Mount Ephraim House. Greensleeves Care required bespoke cabinetry and beds which we were able to provide."
Kate, Business Development Manager at Renray Healthcare.
Mount Ephraim House exemplifies the charity's approach to caring and care home development and providing residents with person-centred care rooted in their local communities.
Project by Renray Healthcare