Four Seasons Health Care Group sees queries from care seekers more than double
Digital mapping gives Autumna clear picture of care seeker demand hotspots, supports accelerated discharge tool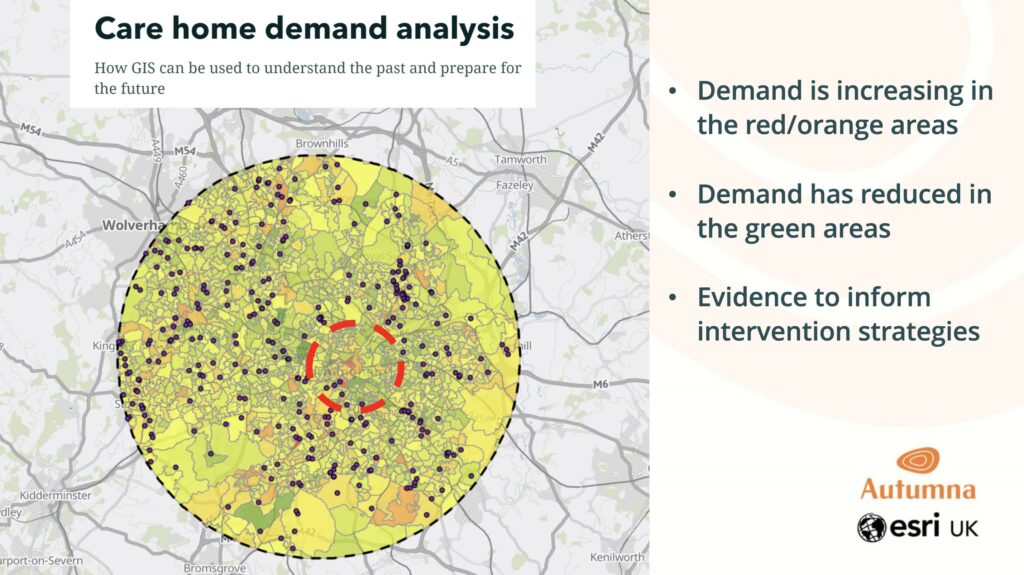 Autumna, the UK's largest directory of care home and retirement living providers, is using geospatial software from Esri UK to help its customers market their properties more effectively.
Using spatial analysis to identify where most care seeker queries are coming from, Autumna is able to tell care providers which properties are best suited to promote on its platform using a premium profile. One care provider, Four Seasons Health Care Group, has seen queries from care seekers more than double across 40 care homes since using the service.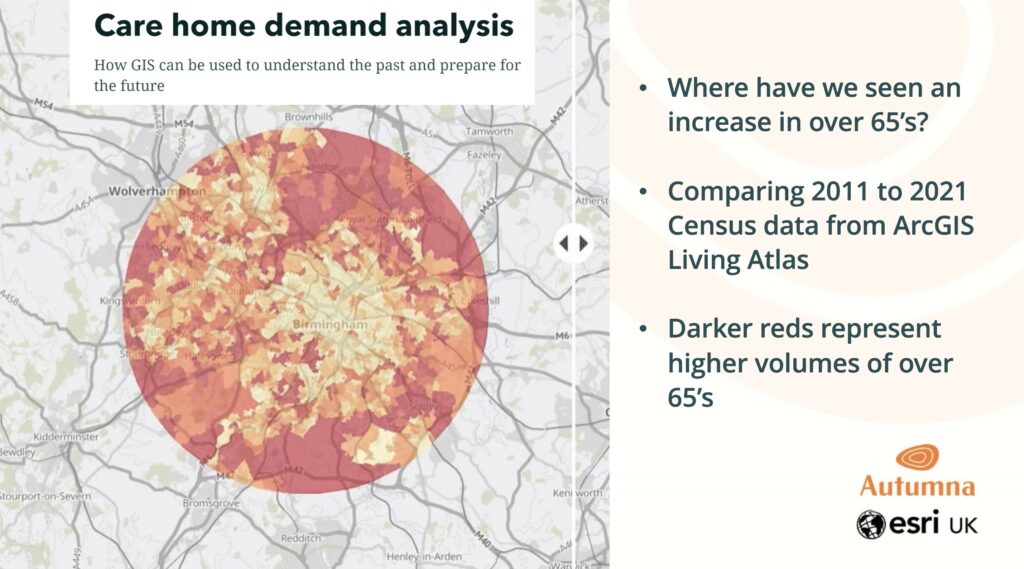 The new digital mapping solution from Esri replaces manual processes using spreadsheets and static PDF reports. By visualising query traffic on an interactive map dashboard, the data is validated as users can see it is real. Autumna introduced the new mapping technology as it wanted to understand the impact of location on searches for care homes and help care providers achieve the best ROI on their marketing spend.
"We needed to examine which care homes in the country were in the best location to receive the largest number of enquiries possible and we could only do this with geospatial technology," explained Debbie Harris, founder of Autumna. "We chose to work with Esri UK due to its impressive pedigree and how accessible the software was."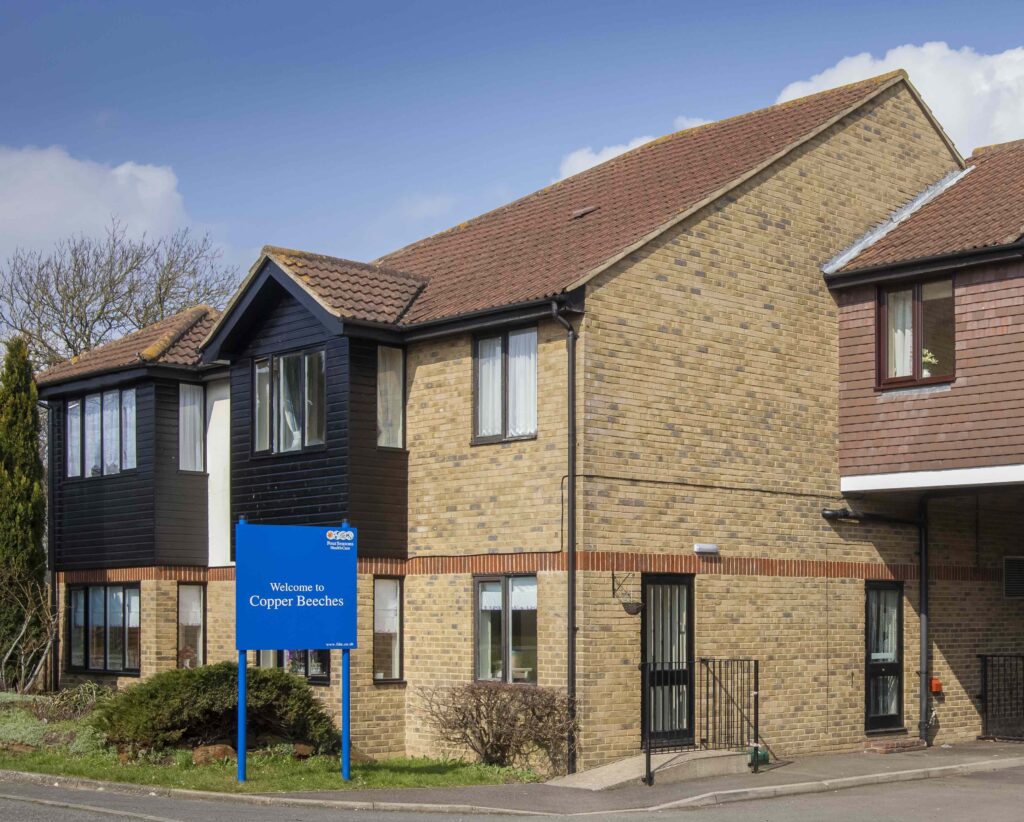 "Plotting providers and care seekers from the last four years on the same map, instantly gave us a clear picture of demand hotspots, along with hotspots for the type and cost of care being sought. It's a different way of looking at our data and creates new insights which we've been able to share with customers. The approach eliminates a lot of risk for them by revealing which of their locations are best suited to invest in a premium profile so helps create a more reliable relationship with us."
Four Seasons Health Care Group upgraded a single listing to the premium level and saw a 40% increase in enquiries. As a result, it decided to look at other areas and increased the number of upgraded listings to 40 homes and the number of enquiries generated more than doubled.
"Seeing where demand is coming from on a map instantly reveals where we should invest in more premium profiles which helps maximise our marketing investment," said Tessa Matthews, Head of Marketing and Digital, Four Seasons Health Care Group.
Esri UK geospatial technology is also being used to support Autumna's recently launched Dashboard for Accelerated Discharge tool (D.A.D.). By automating the currently manual process of searching for care, D.A.D. works with discharge teams and care providers to identify available, appropriate care within 60 minutes of a search request being performed. Esri enables users to forecast how the demand versus availability is going to change in the future.
Future plans include using the demand data to advise providers where is best to open a new care home. Autumna is also planning to feed census and other demographic data into the system to understand population changes and trends over time which might impact the industry.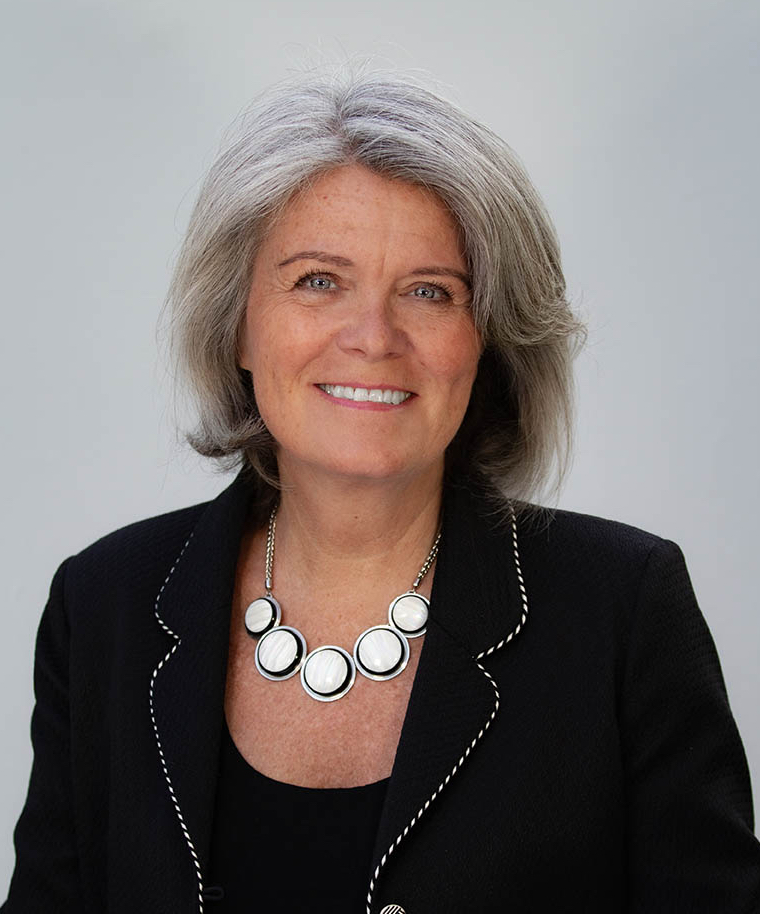 "The use of spatial analysis in the care sector is relatively new," continued Debbie. "We began working with Esri UK and experimenting with its geospatial software over a year ago and it's now integrated into our business. We knew we had a lot of data that we weren't using properly and location is perhaps the most important part of a search for care and very difficult to analyse without a map. Now we can easily demonstrate where care requirements are coming from along with budget hotspots. The geospatial approach lets us understand the care seeker better and the more we understand them, the more we can improve our processes."