One of Europe's leading suppliers of contract fabrics, Panaz, was specified by Drawing Room Interiors to supply custom designed, high performance fabrics to help create dementia-friendly interiors that provide a comforting environment for residents.
To achieve this, Drawing Room Interiors utilised Panaz's exclusive digital fabric design software, ReMake, to create bespoke curtain and upholstery fabrics that feature unique designs.
Throughout each area of the care home, Dressing Room Interiors has taken inspiration from the region's rich history, with all communal spaces subtly reflecting the local area. In the Mulberry Lounge, which is inspired by the local Tudor history of silk production from mulberry bushes, Drawing Room Interiors used Panaz's ReMake tool to create bespoke designs for the curtain, upholstery and cushion fabric.
The soothing colourways and nature-inspired designs instil a feeling of serenity throughout the lounge, whilst perfectly complementing the bespoke cabinetry that features an imprinted design of a mulberry bush.
With the Mulberry Lounge paying homage to the region's iconic mulberry bushes, the bistro is inspired by a local lake. A bespoke voile fabric from Panaz was designed by Dressing Room Interiors to create curtains that reflect the trees and nature surrounding the lake, whilst softly diffusing the available natural light.
Whilst it was essential for the fabrics to reflect the chosen design scheme, it was also crucial that they delivered the highest standards of technical performance, with the fire retardancy of the fabrics being a leading consideration. Some professionals may choose a retail fabric and have a FR treatment added, however, this may alter the texture and appearance and is not guaranteed to make it FR, depending on the type of yarns involved.
By specifying Panaz's inherently fire retardant upholstery and curtain fabrics, Drawing Room Interiors could be confident the fabrics delivered the highest standards of performance and safety for the care home's residents and employees, whilst ensuring first class compliance with all legal requirements.
To support successful infection control throughout all areas of the care home, it was also essential for the contract fabrics to mitigate against the spread of virus and bacteria. Applied during the manufacturing process via a method that creates a covalent bond with the fabric, Panaz's unique and fast-acting anti-microbial technology, ShieldPlus, is integral within its fabrics to deliver the highest standards of infection control.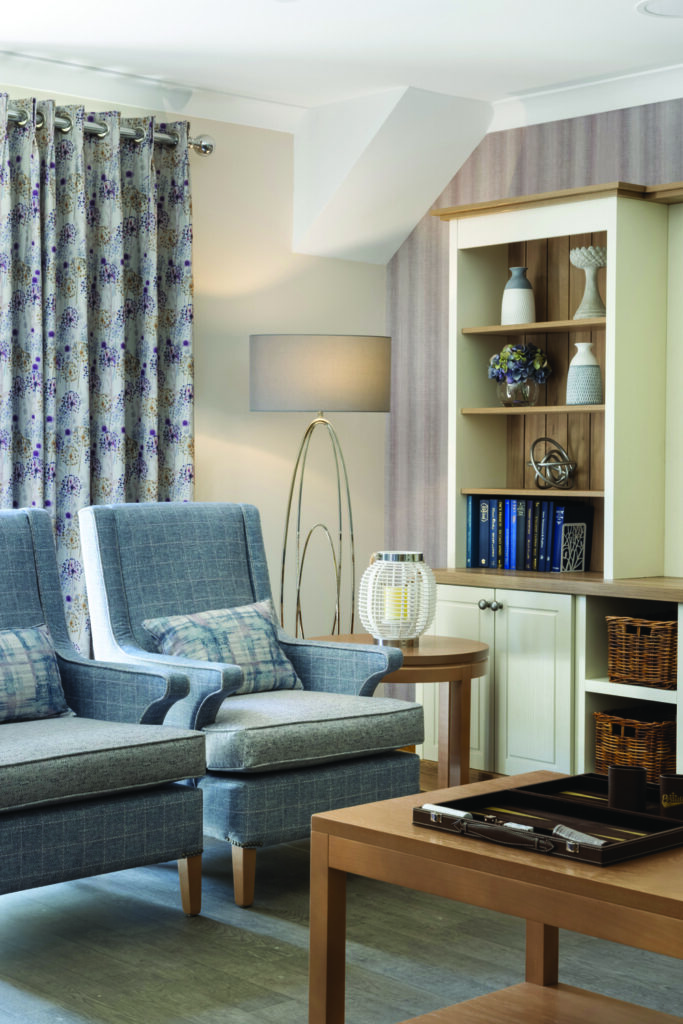 The durable and safe to use technology provides protection that fights against a broad spectrum of bacteria, fungi, viruses and parasites including Coronavirus, MRSA, C-diff Spore and Norovirus. Because Shieldplus is applied at point of fabric manufacture, there is no change in the colour or texture of the finished fabric, which can potentially be caused by some topical after-market technologies.
Unlike other types of treatments, the technology also instantly kills on contact by piercing the cell wall of bacteria and viruses and because it is non-migrating, it doesn't leech into the environment, meaning it is active for the lifetime of the fabric and does not deplete in potency, even in high traffic areas.
Whilst some traditional antimicrobials tend to contain heavy metals such as silver and copper, latest advancements are utilising water-based technologies that are safe for both the environment, care home residents, their visitors and staff.
By working in close collaboration with Drawing Room Interiors throughout every stage of the project, Panaz was able to provide a complete suite of complementary, custom designed fabrics that not only look beautiful, but deliver unrivalled levels of technical performance.
For further information on Panaz's extensive range of fabrics and ReMake capabilities, visit http://www.panaz.com/en or call +44 (0)1282 696969.