As a designer specializing in designing for the Care and Retirement sector, selecting the right floor for each area is extremely important and there are many factors I take into account.
The first and the most important factor is the Client brief, understanding the function of the room or area. How will the space be used and what activities will take place? Finding information from the client about the residents or potential residents and what their needs are.
My aim when designing a Care Home is to create an environment that is as homely and comfortable as possible, avoiding an institutional appearance.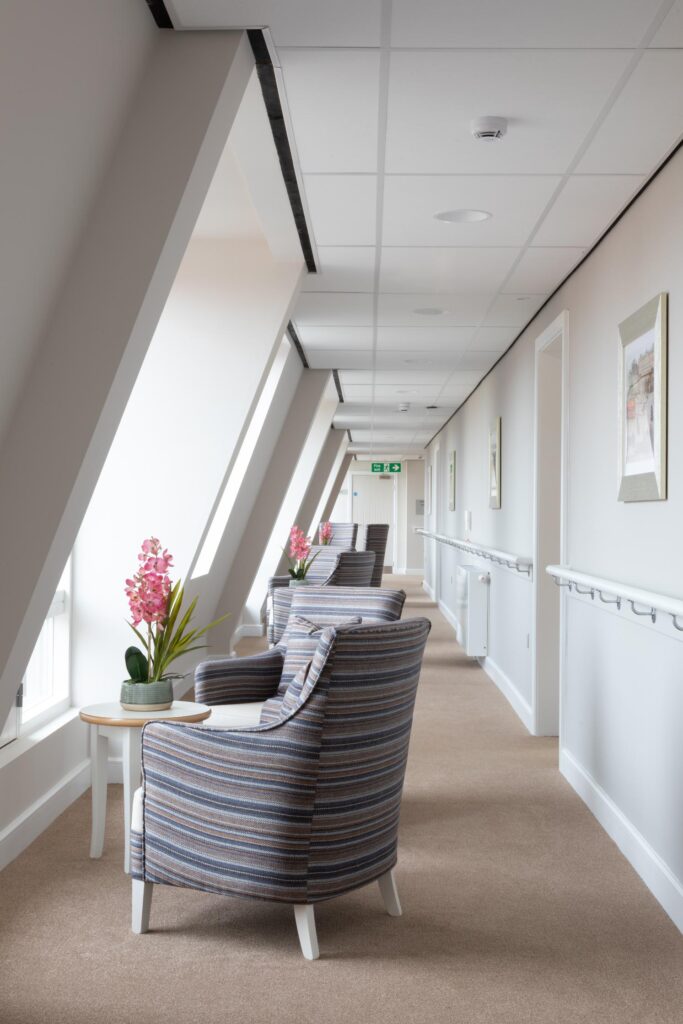 Once the functionality of the space is established, I then take into consideration points such as infection control, regulations, acoustics, light reflectance values, cleaning regime, aesthetics, maintenance, warranty and client preference.
For wet rooms and bathrooms, I would usually use a vinyl safety floor that is above P36 (Pendulum test for slip resistance) and has passed the barefoot test, in these areas the flooring would normally be coved. Sometimes a ceramic or porcelain tile is used, which would need to meet the same criteria. I tend to use vinyl more often as it is a softer finish, should a resident fall.
In Communal Lounges and bedroom spaces, I like to use carpet, as it has a warm and familiar in appearance. I would always select a carpet that is impervious, anti-bacterial and Anti-Microbial. The impervious backing prevents liquids from penetrating the carpet. The Anti-Microbial feature helps reduce potential infections, cross contaminations and helps to reduce odours. Dependent on the client brief, I sometimes use Vinyl flooring in Communal Lounges and Bedrooms, in this case, I tend to use vinyl which emulates a wood floor, as this again feels more natural. Post Covid I am being asked more often for Vinyl in corridors and sometimes in bedrooms.
When selecting vinyl to be used in communal spaces, I select from either Sheet vinyl or Luxury Vinyl Tiles (LVT), this selection would be based on practicalities, budget and function of the space, for example, a sheet safety vinyl floor is often used in a Dining area and an LVT in the front of house.
An extremely important factor when selecting flooring is the LRV value (Light reflectance Value). LRV is a universal value for 'contrast'. It measures the proportion of useful light reflected by a coloured object. It represents a relative light and darkness value rather than an actual colour. Therefore, dissimilar colours could have the same LRV. LRV is measured on a scale of 0 to 100, 0 being perfect absorbing black and 100 being perfect reflecting white. It is important to select as close as possible LRV values for each adjoining floor, for example, bedroom to bathroom or bedroom to the corridor. If the LRVs between floor finishes are not as close as possible, residents may see the change as a step or hole.
One of the more challenging parts of selecting floors for Care Homes is selecting a threshold matt which is both practical and has an LRV value close to the reception area flooring, there are colours available that work, but it needs a careful selection.
When selecting flooring it is very important not to forget the floor trims, these need to be non-reflective and have an LRV close to the two floors that it is joining. Reflection and glare need to be avoided on all surfaces in a Care environment, so the flooring needs to be matt and non-reflective.
Acoustics is an often-underrated part of a Care Home design, but a detail of the design which makes a massive impact on the residents. We have all had bad experiences of restaurants, where you can't hear the person sitting opposite to you, imagine that
happened at every mealtime? Or the general reverberated noise in a room was irritating. Added to the fact that you may not be very mobile, so find it difficult to move away from the Noise. This can be very distressing. Flooring can be used as part of the Acoustic design plan either using carpet or acoustic vinyl, teamed up with other soft surfaces such as curtains, upholstery etc.
Flooring can also be used to help with wayfinding or to zone areas, for example in a café area there could be a carpeted area with lounge seating and a vinyl floor area with dining tables and chairs, helping to differentiate area.
Lastly but not least is the aesthetic element of the flooring, over the last 10 years there are so many more flooring options that are suitable for care environments. With Impervious carpets there are now many more colours and designs available, gone are the garish colours of the past and there is also the option of bespoke designed carpets. Vinyl flooring has also moved on, with more realistic woods in better colours as well as stone effects. Safety floor no longer looks or feels as gritty and there are massive improvements in wet room floors which are now available without glitter and speckles.
There is much data and aspects I look at when specifying a floor, way too many to put them all into this article, but hopefully this has given an overview of some of the important aspects, I take into consideration when putting my specification together.
Diana Celella – Managing Director – Drawing Room Interiors.