New Build 45 bedroom Care Home – Lord Harris Court
Client – RMBI – Royal Masonic Benevolent Institute
Interior Designer – Diana Celella – Drawing Room Interiors
This New Build Care Home project is based in leafy Sindlesham, it is a 45 bedroom home for Dementia and Nursing care. Interior Designed by Diana Celella of Drawing Room Interiors for Royal Masonic Benevolent Institute (RMBI). The project brief was to create a homely Care Home which was not institutional in appearance. Using Evidence based design to create a dementia friendly interior which promotes confidence and independence.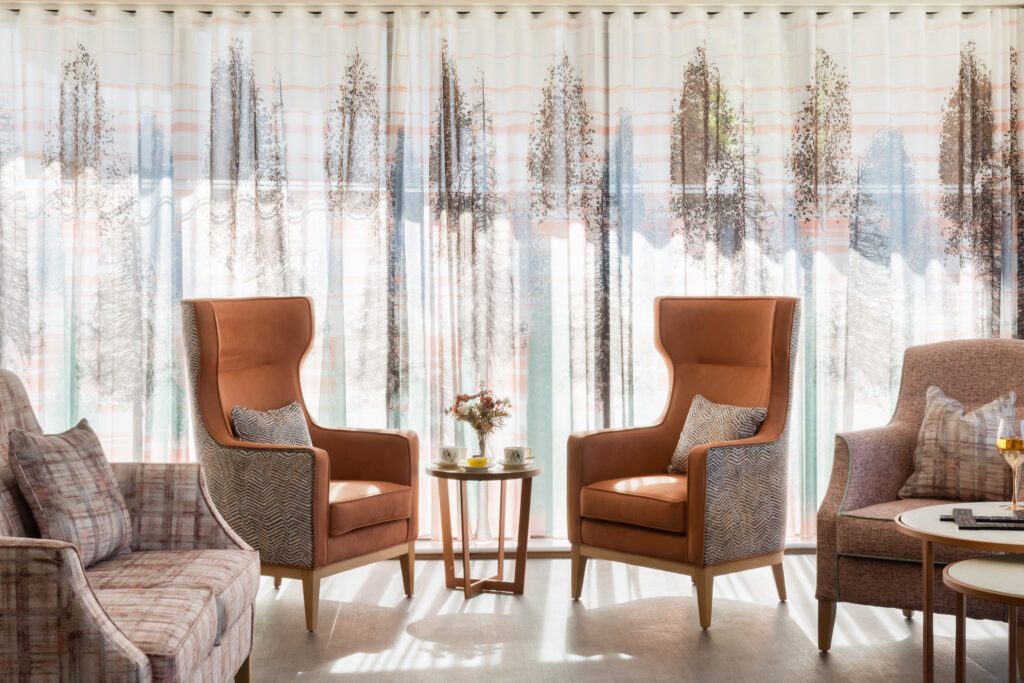 There is an existing 1970's Care home on site, which was no longer fit for purpose, the new build has been built in the same grounds, with residents of the existing care home to move into. Diana's design connects with the local area, using local history, Geography, and attractions for Inspiration. The bistro takes inspiration from a local Lake, the bespoke cabinetry inspired by ripples on the water and the bespoke voile curtains the trees and nature around the lake.
The majority of the curtain fabrics and some of the upholstery fabrics are bespoke designed, Diana worked with the Panaz design team to create these unique designs. This is well-illustrated in the Mulberry Lounge, inspired by the local Tudor history of silk production from Mulberry bushes. The Mulberry fabric is bespoke designed for the curtains, as are the upholstery and Mulberry cushion fabric. The bespoke cabinetry has an imprinted design of a Mulberry bush.
Infection control and safety has been a serious consideration of the design with anti-bacterial and anti-microbial upholstery fabrics, vinyl safety flooring and profile beds which descend to floor.
Dementia enabling design by use of evidence-based design, looking at LRV values, surfaces, flooring, and use of rummage boxes as well as 3D art to promote memories and discussion.
Wayfinding is an important part of the design, there are hand painted Murals, by Ryan Loughnan, as well as themed artwork in the corridors. The artwork helps to lead the way to area, for example leading to the bird watching area, the artwork is all about local birds and bird watching.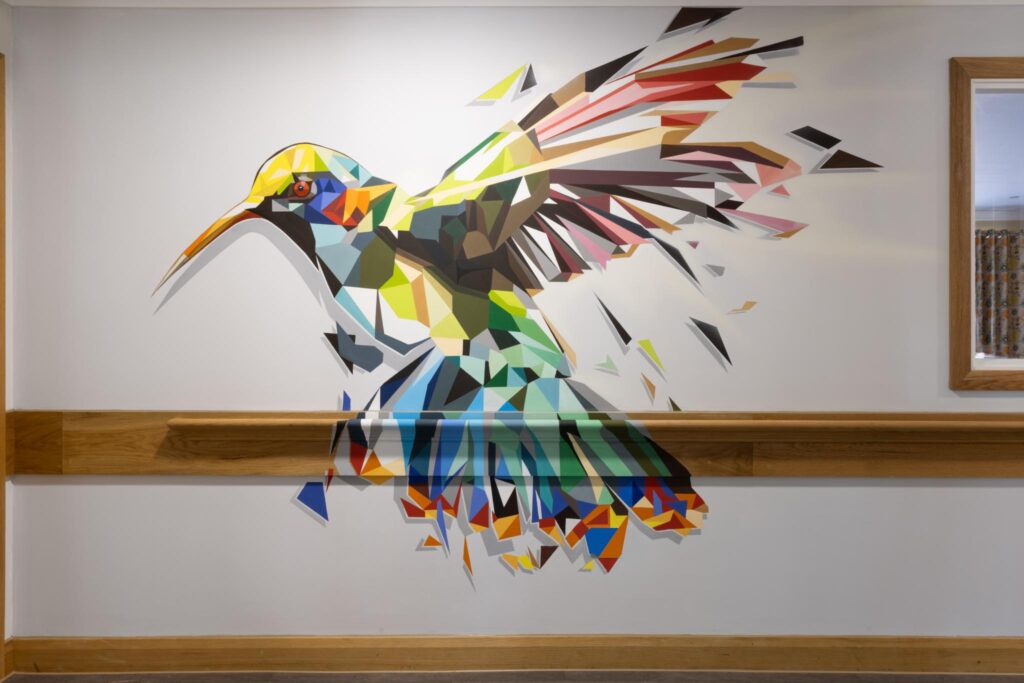 Care Home bedroom furniture can look institutional, for this reason Diana designed bespoke furniture, produced in four colours. Due to infection control it was decided to use vinyl flooring in all areas including the bedrooms, this has been softened using textured wallcovering, colourful schemes and upholstered profile beds.
The client, residents, staff, and relatives are thrilled with the care home and looking forward to moving in over the next few weeks.
Project by Diana Celella - Drawing Room Interiors